Mission

Overview

History

Client Confidentiality

Bios

Locations

Contact Us

What People Say…

Who We Are

Innovation, Experience, Dedication, Collaboration, Results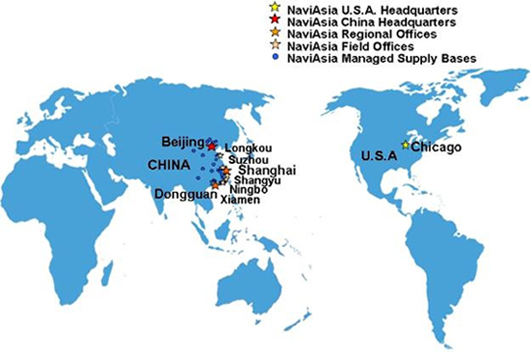 NaviAsia has multiple locations in China. Please contact our USA or Chinese office to learn more about our locations throughout China.
United States
NaviAsia Consulting Group, Inc
303 West Madison Street
Suite 1325
Chicago, IL 60606
Phone: 312-212-8925
Fax: 312-345-0898

China
2507 Golden Tower
No. 1 Xibahe' nanlu
Chaoyang District
Beijing 100028
China
NaviAsia in the News
NaviAsia VP Bill Liu to lecture at Shenyang Jianzhu University
Marketing Management

Read More >>>
NaviAsia VP Bill Liu to lecture at Kellogg School of Management, Northwestern University
"Created in China - The Global Rise of China's Creative Industries."

Read More >>>
China: Promise to Profits, 2008 U.S.-China Business Forum
This conference will inform and educate small and medium-sized businesses about the Chinese business frontier and how your business may be

Read More >>>
NaviAsia VP, John Tomaszewski speaks at Manufacturing Week Conferences in Rosemont
NaviAsia VP, John Tomaszewski spoke at the Manufacturing Week Conferences in Rosemont, the nation's leading conference on innovation in

Read More >>>
Archive